Study plan and study materials
Study plan
Presented subjects
| | | | |
| --- | --- | --- | --- |
| Subject | Hours per week | Head of the department | Contact e-mail |
| Biology | 5 | prof. MUDr. Marie Černá, PhD. | |
| Chemistry | 5 | assoc. prof. MUDr. Jan Trnka, Ph.D. | |
| Physics | 5 | prof. MUDr. Jozef Rosina, PhD., MBA | |
| Czech | 3 | PhDr. Petr Honč, Ph.D. | |
| Medical English | 2 | PhDr. Petr Honč, Ph.D. | |
| | | | |
Schedule of premedical courses
Upon your arrival, we will register you in the university system, which will give you a complete overview of your schedule. To give you an idea, here is random timetable. Your personal timetable may be different.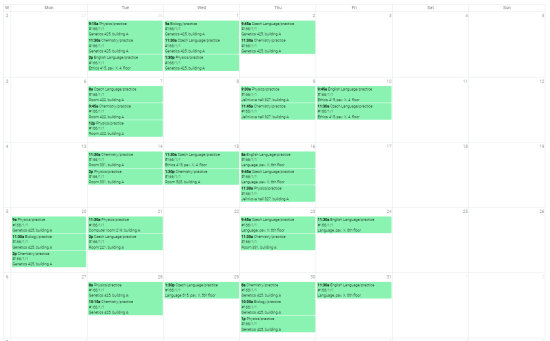 Testing methods during the course
The student's progress is monitored and evaluated by written tests and student's activity in the lessons. Written tests give an information about knowledge of the presented topics for participants and teacher.
Certificate of course completion
Upon completion of the course, you will receive a certificate of completion. You can pick it up at the study division.
Study materials for premedical course
Recomended Books
Biology

Campbell N.A., Reece J.B., Mitchell L.G.: Biology
Addison Wesley Longman, Inc.1999
ISBN 0-8053-6573-7
---
Chemistry

Hein, Pattison, Arena: Introduction to General, Organic and Biochemistry, 11th Edition
John Wiley, 2013
ISBN 978-1-118-50189-4
---
Physics
Sternheim M.M.,Kane J.W.: General Physics
John Wiley, N.Y. 1991
ISBN 0-471-52278-3
---
Study materials
Biology
Chemistry