19 September 2023
The 4EU+ Summer School of Clinical Acid-Base and Homeostasis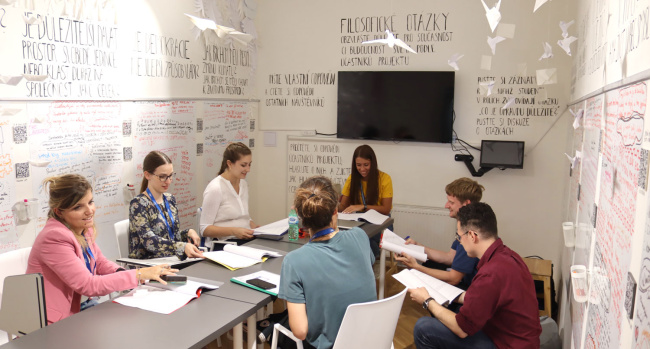 The second edition of this course was organised by the Third Faculty of Medicine, Charles University, within the framework of the 4EU+ University Alliance. It took place from 13 to 16 September at the Didaktikon education centre in Prague. The event featured a distinguished lineup of 13 esteemed speakers hailing from 10 different research institutions across 7 European countries. Among the experts who graced the event with their presence were Luciano Gattinoni, Paul Elbers, Manu Malbrain, Pietro Caironi, Thomas Langer, František Duška, and others. The audience was equally diverse, consisting of 53 participants, including medical students, residents, and young specialists. Together, they enjoyed frontal lectures, case-based workshops, and a rich social program.
The participants' feedback was overwhelmingly positive as summarised by the course director, František Duška:
"Reading candidates' feedback was truly enjoyable - it was full of gratitude and admiration. They felt enriched, inspired, and excited. The most appreciated aspects were the opportunity for direct interaction with the respected experts and the workshops, during which real patient scenarios were solved under supervision. The participants evaluated most of the lectures positively and were delighted by the community spirit."
The candidates' satisfaction and the overall atmosphere can be further illustrated by the following comments from the evaluation forms:
"Most experts were present and listening to other experts' lectures, showing respect to each other."




"It is amazing how kind and approachable these famous people are. They sometimes disagree, but always remain a good team."
The negotiations on the next edition of the Summer School have already started, with Milan and Copenhagen being the two most promising venues. For updates, follow @SchoolAcidBase on x.com!