9 May 2023
Visit of students of Radboud University Nijmegen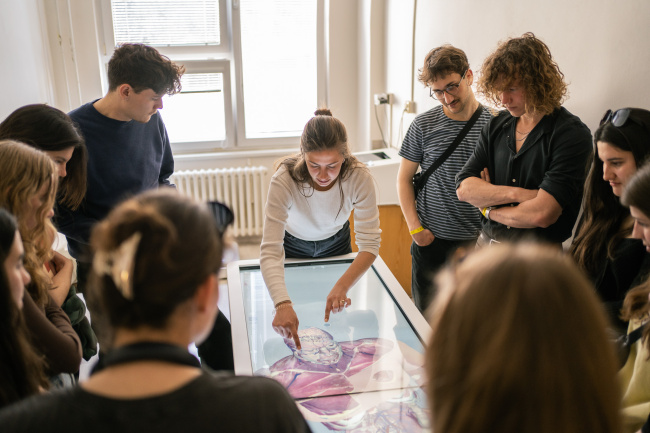 May 4th was a beautiful summery day. An exotic "Goedemorgen!" was resonating through the halls of our faculty. We had the pleasure of hosting 40 Medical Biology students from Radboud University Nijmegen in the Netherlands. The guests came to observe how research is conducted at our faculty.
Our Dutch friends were welcomed by Mgr. Marika Bendova from the Department of International Relations. Paolo Sousa Palma, together with our English curriculum students, gave our visitors an extensive tour of our premises of our faculty, but also the Institute of Histology and Embryology and the Institute of Anatomy. The program and content of the excursion were designed by student teams under the supervision of dr. Jirakova and prof. Zach.
Assoc. Prof. Zemlickova, the head of the Institute of Microbiology, gave an excellent lecture which ended with a well-deserved standing ovation and an even longer post-discussion. Following the lecture was a presentation from our PhD. students MUDr. Grygarova and MUDr. Sebo who walked us through how science and research work is carried out at our faculty, especially focusing on how students can get involved as part of the 4EU+ alliance.
Our Dutch friends then joined us for some informal chats outside, catching some needed vitamin D, and then moving to Maly Eden for some extra vitamin B.
Thank you to everyone involved, to our colleagues and students, for their professional work and cooperation. We are looking forward to hosting more future foreign visitors!
Thanks for photo: R. Žak a M. Kubalová