23 March 2023
Agreement between Charles University and the J. William Fulbright Commission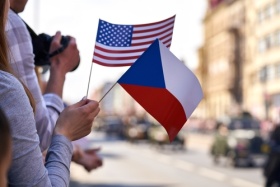 Based on the agreement signed between Charles University and the J. William Fulbright Commission, American academics can receive partial financial support for temporary academic/lecturer positions at any faculty or unit of Charles University. The contract is limited to a maximum of 2 persons in a particular academic year, with the UK welcoming the first lecturer under this agreement in the academic year 2024/2025. The position is designed for qualified US academics who will provide experience in their area of expertise to students in higher undergraduate and graduate programs during their tenure at CU faculty. The duration of the assignment ranges from 3 to 10 months. The position is open to any specialisation in all disciplines offered by the CU.
Suitable candidates will be pre-selected by the Institute of International Education (IIE) together with the Commission. CU and the Commission will nominate 2 finalists and 1 alternate. The final decision will be made by the Fulbright Foreign Scholarship Board. The Commission together with CU. will provide all necessary information for the selected candidate and other details.
The Commission, in collaboration with IIE, will promote the offer in the Fulbright Scholar Program: Grants for U.S. Faculty and Professionals event. Detailed information about the position will be available to U.S. applicants in the Catalogue of Fulbright Awards published by IIE. If interested, applicants may contact either the IIE itself, Kateřina Kloubová ( ), or Anna Bowers ( ). For promotion purposes, the following link can be used: Fulbright Chair - Charles University (cuni.cz).