Trimed Job 2023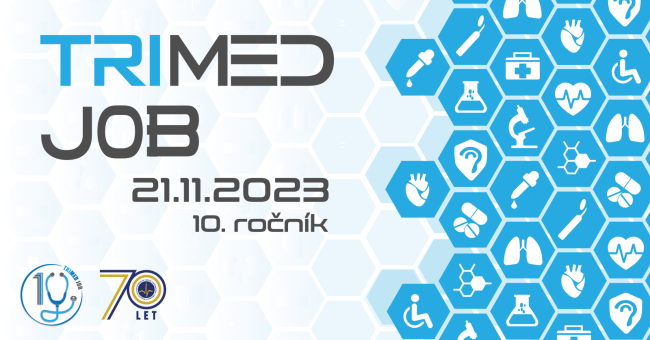 Join us on Tuesday, November 21 on a tenth year of our TRIMED JOB 2023 fair!
Come and enjoy a schedule full of interesting lectures and activities we prepared for you in the building A of Third Faculty of Medicine (Ruská 87, 100 00 Prague 10). At the main lobby you will be welcomed by the ambassadors of various medical facilities from all over the Czech republic and few foreign hospitals. The schedule isn't addressed to medical students only, but also to students of bachelor's programmes.
And what can you look forward to?
In case you are struggling with choosing your future specialization, you are more than welcome to attend lectures lead by our graduate students. They will do their best at giving you closer look into their specialization, describing different aspects of their jobs and gladly answer any questions you might have. Answers to your questions about job preconditions abroad, will be provided by our lecturers from Germany, United States, United Kingdom and Israel.
TRIMED JOB 2023 is definitely a place full of opportunities meeting your future employer, arranging an internship or simply obtaining some useful information about board certification.
Complete program will be publish soon. We are looking forward to seeing you!
Organization team TRIMED JOB 2023
Event start
21 November 2023 at 10:00
Event end
21 November 2023 at 18:00
Type of event
Trade-fair
Organiser
TRIMED
Event website
https://job.trimed.cz/
Venue
Building A of Third Faculty of Medicine (Ruská 87, 100 00 Prague 10)