The impact of Free Radicals and Bio-antioxidants on neurodegenerative diseases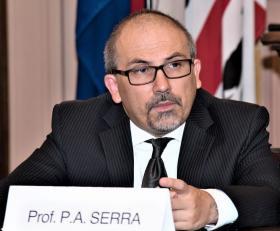 Prof. Pier Andrea Serra, M.D.We would like to invite you to the next lecture of this year's Medicine as a Science cycle. We are pleased
to welcome Prof. Pier Andrea Serra, M.D., Ph.D. Pier Andrea Serra is associate professor of pharmacology at Medical School at University of Sassari. His research is focused on the design and application of microsensors and biosensors for electrochemical monitoring of brain signalling systems in neurodegenerative diseases.
The Professor will focus on The impact of Free Radicals and Bio-antioxidants on neurodegenerative diseases
The lecture will be held in English and will be recorded.
We are looking forward to meeting you on MS Teams, at 5 P.M. on March 31, 2022.
This lecture is funded by the Department of International and Public Relations of the 3FM CU.
More information will be available on the FB page of the event.
Prof. Pier Andrea Serra, M.D., Ph.D.
Medicine as a Science team