Microglial Modulation in Alzheimer's Disease – Innovative therapies or devilish gambling?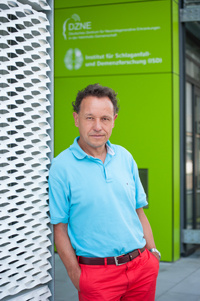 prof. Christian Haass, Dr. Dr. hc.Dear colleagues, dear students, We would like to invite you to next Medicine as a Science lecture. We are very glad that professor Christian Haass, Dr. Dr. hc accepted our invitation.
Professor Haass is currently the head of the Laboratory of Neurodegenerative Disease Research at the Ludwig Maximilian University in Munich (LMU). His main area of interest are the molecular mechanisms behind the production and accumulation amyloid ß-peptides (Aß). It is these peptides that form amyloid plaques in the brains of patients with Alzheimer's disease, and are thus of high clinical relevance. Specifically, professor Haass was the first to observe and demonstrate the function of beta- and gamma-secretases – the enzymes that are responsible for the production of Aß. More currently, his research has been focused on the impaired function of microglia and their potential role in neurodegenerative disorders.
Professor Haass studied Biology at the Ruprechts-Karls-University in Heidelberg. After obtaining his PhD degree, he was as a post-doctoral fellow at Harvard Medical School, where he also worked as assistant professor in the department of Neurology. After professor Haass returned to Germany, he was employed at the Central Insitute of Mental Health in Mannheim as a professor of Molecular Biology. Ever since 1999, he has been a professor of Biochemistry and the head of the Neurodegenerative Disease Research Lab at LMU, Munich. Professor Haass is also the coordinator of the German Center for Neurodegenerative Disorders in Munich. For more information on professor Haass, please see this link.
Professor Haass will connect via MS Teams, on the 25th of October at 6:00 PM
and talk about his research and experience in a lecture on the following topic:
Microglial Modulation in Alzheimer's Disease – innovative therapies or devilish gambling?
More information will be available on the FB page of the event.
This lecture is funded by Department of International and Public Relations of 3FM CU.

Medicine as a Science team