Metastatic non-small cell lung cancer - from nihilism to cure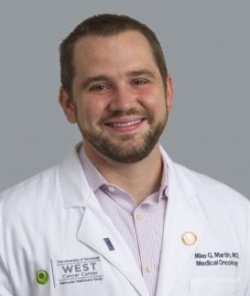 Michael G. Martin, MDWe would like to invite you to the last lecture from this year's Medicine as a Science cycle. We are very happy that Michael G. Martin, MD
has agreed to give a talk.
Dr. Martin is a medical oncologist at West Cancer Center and Research Institute in Memphis, Tennessee. He earned his undergraduate degree at the University of Memphis and his medical degree at the University of Tennessee Health Science Center in Memphis, where he was awarded the Outstanding Medical Medical Student Award and graduated with Highest Honors in 2003. He completed his residency in internal medicine at Duke University Medical Center, and a fellowship in medical oncology at Washington University School of Medicine.
Dr. Martin's research has been published in Blood, Immunological Reviews, Journal of the National Comprehensive Cancer Network, as well as The Lancet.
During the Medicine as a Science lecture, Dr. Martin will talk about metastatic non-small cell lung cancer.
We are looking forward to meeting you on MS Teams at 5 P.M. on the 4th of June 2021.
The talk will be held in English and will also be recorded.
More information will be available on the FB page of the event.

Medicine as a Science team
Event start
4 June 2021 at 17:00
Event end
4 June 2021 at 18:30
Type of event
Lecture
Organiser
Trimed 3. LF UK
Programme
https://fb.me/e/FBrPgKv9
Venue
MS Teams