10 February 2023
The long-awaited Greek-Latin terminology textbook has been published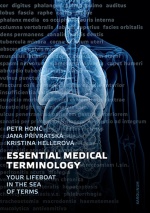 Karolinum Press has newly published the long-awaited Greco-Latin terminology textbook titled Essential Medical Terminology: Your Lifeboat in the Sea of Terms by Petr Honč, Jana Přívratská, and Kristina Hellerová from the Department of Languages, Third Faculty of Medicine of CU. Tailored to the needs of international students at medical faculties, the book is a useful resource for both in-person classes and self-study, offering structured explanations of grammar, casting a light on basic word formation principles, and featuring the most common vocabulary used in anatomical as well clinical and pathological terminology. The textbook includes annotated illustrations of anatomical structures and a plethora of diverse exercises to master the phenomena discussed in each chapter. Uniquely, the textbook is linked to an e-learning course on the Moodle platform via QR codes, which offers immediate feedback to students and will continue to be updated and expanded on a regular basis.
It is the authors' hope that this meticulously prepared study text, considerably influenced by contributions by specialists in anatomy, pathology, and pharmacology, will provide its readers with a welcome harbor in the sea of medical terminology.
Available for purchase in print and e-book format.