---
Admission process
Submit the online application - here you can find a simple guide on how to fill out the application

- pay the admission fee CZK 830 via online application (or bank transfer)

After the application is processed by the faculty, you will choose the exact date of your exam (see how).

---

Wait for the invitation to the entrance exam with further details (should be done approx. one month before the exam)

- if you are applying with assistance of an agency, you will receive further details from your agency

- Attend and pass the entrance exam

---

Send admission documents:

- high-school leaving certificate - verified and authenticated according to your country:

- official transcript including all marks/grades and number of hours

- photocopy of the 1st page of passport

- one passport-size photo




Send the above mentioned documents by post to the faculty address:

Third faculty of medicine

Ruská 87

100 00 Prague 10

Czech republic




It is highly recommended to send the documents by July 15th 2023.

- the latest deadline for sending the documents is the day of your enrolment to study in September, but be aware that you can only be officially admitted to the faculty after submitting the documents.

- especially for students in need of VISA it is necessary to send it as soon as possible.

---

Request and pay the high-school certificate recognition fee CZK 880.

- in your on-line application go to the "Proof of education" section

- choose "a foreign document concerning a foreign secondary education (it will be assessed)"

- pay the recognition fee by card (or bank transfer)




We also accept general all purpose nostrification.

---
The entrance examination dates
| | | |
| --- | --- | --- |
| | | |
| | Israel - Tel Aviv - January 15th, 2023 | |
| | | |
| | UK - London - April 22nd, 2023 | |
| | Germany - Hannover - April 28th, 2023 | |
| | Spain - Madrid - April 30th, 2023 | |
| | Czech Republic - PRAGUE - May 26th, 2023 (non agency term) | |
| | Portugal - Lisbon - May 27th, 2023 | |
| | India - New Delhi - May 31st, 2023 | |
| | UK - London - June 28th, 2023 | |
| | Germany - Munich - July 1st 2023 | |
| | Norway - Oslo - to be announced | |
| | | |
| | Cyprus - Limassol - to be announced | |
| | Israel - Tel Aviv - to be announced | |
| | | |
| | More examinaton dates will be announced by January 2023 | |
The Faculty cooperates with the following student agencies on the admission process. Please, be aware, that agencies may have their own additional requirements or fees set.
In United Kingdom of Great Britain and Northen Ireland
In Portugal
Information Planet

•For applying through this agency contact Ms. Ana Paula,

e-mail: ,

or Ms Joao Colaço, e-mail:
In India
Caxton

•To apply through this agency contact Mr. Raju J. A.,

e-mail address: ,

phone number: + 91 484 2390409, +91 94003 16409, + 91 484 2390509
In Taiwan
Ivy int.

•To apply through this agency contact Mr. Daniel Chung,

e-mail address: dddccc21@gmail.com
In Turkey



•To apply with an assistance of CZuni.com agency, contact Ms. Adéla Mašková:

e-mail:

phone number: +420 608 128 608

•Website: czuni.com




Presentation for applicants to the Third Medical Faculty of Charles University organized by CZuni:




We would like to invite you to a presentation by our faculty on April 2, 2023 at the Hotel Rixos Pera Istanbul at 9:30 am. The adress : Meşrutiyet Cad. No:44, 34000 Tepebaşı, Beyoğlu/İstanbul




Entrance exam

The entrance exam will take place on May 23, 2023, from 10am to 4pm. Registration is open until 30 April 2023. For more information, please contact the representative listed above.
The alternative date of entrance exams
If you are not able to sit the entrance exams on the date you are registered for, especially from serious health reason, you can ask for the alternative date of entrance exams by e-mail in 3 days from the original date. The medical report is required and the Dean will consider whether your reason is relevant or not.
The alternative date of entrance exams is on July 4th 2023 in Prague.
Deadlines and admission schedule
The deadline for submitting the online application form and payment of the admission fee for the entrance exams in April and May 2023 is March 31st 2023.
The deadline for sending the online application form and payment of the admission fee for the entrance exams in June 2023 is April 30th 2023.
After successful admission (the entrance exam and recognition of the admission documents) the applicant receives an Admission letter from the faculty, which is usually required as part of the visa application. It is highly recommended to apply for VISA by June, so it is issued by the beginning of the academic year.
Admitted applicants enrol to the study during September (in Dobronice camp or at the faculty), the latest possible date to enrol is October 20th 2023.
Number of admitted applicants
Maximum 65 students will be admitted for the academic year 2023/2024 to study medicine in English language on the basis of entrance examination,
maximum of 25 students will be admitted without the need to carry out on entrance examination.
Annual tuition fee
CZK 460.000 (Czech crowns)
The tuition fee covers the period from September 2023 to June 2024 and has to be paid by October 31, 2023.
How the entrance exam looks like
The Faculty seeks students with appropriate academic qualification, good command of English and high motivation to study medicine. The entrance examinations have 2 parts:
1. part - writen multiple - choice tests in Biology, Chemistry and Mathematics or Physics
The test is conducted electronically on applicant's laptop/other device.
There are 90 questions in the test, 30 questions in each subject, with only one correct answer out of four.
Minimal and maximal possible number of points is: minimum 0 - maximum 90
The dean will set the minimal number of points to proceed to the second part of the examination based on the results of the first part of the entrance exams.
2. part - an interview, which involves: interpretation of a popular - scientific text, general overview, the ability of an independent judgement, communication skills
Minimal and maximal possible number of points is: minimum 12 - maximum 62
The number of points required for admission is determined by the Dean based on the entrance exams results. The range of topics for Biology, Chemistry and Physics/Mathematics sample tests can be found here.
Admission without the need to carry out an entrance examination
1a) A-level examination results – Physics or Mathematics, Chemistry, Biology:
Minimum results: A, A, B
The examination must be carried out in the academic year 2021/2022 at the latest
or
1b) Results of International Baccalaureate (IB) in Area 4 (Experimental Sciences) with Chemistry, Biology and Physics or Mathematics, all in Higher Level:
Total – minimum sum of points from the given 3 subjects: 19
The examination must be carried out in the academic year 2021/2022 at the latest
or
1c) Results of a comparable examination (e.g. SAT) in Biology, Chemistry, Mathematics or Physics:
Overall minimum score: 85 percentile
The examination must be carried out in the academic year 2021/2022 at the latest
or
1d) Study average of school leaving exams subjects (applicants attending secondary education in Germany):
Grade average during the whole period of study: better than 1,30
The applicant must graduate from secondary education in the academic year 2022/2023
2) An applicant for study that wishes to be accepted into the first section of study (first year) without an entrance examination is required to submit an application form for the remission of the entrance examination (application form available here in pdf or docx)to the Study Division of the Faculty to the March 15, 2023 (the date of postage is decisive).
3) An order of applicants will be drafted based on the criteria above and study grade averages. A maximum of 25 applicants may be admitted without an entrance examination.
Applicants with special needs
Instructions how to fill and send the application form:
Please go to the website: https://www.lf3.cuni.cz/3LFEN-12.html and open the application form

In the application form please:

| | |
| --- | --- |
| a. | tick "Requirements for special treatment due to health handicap" |
| b. | fill "Health limitation" |
| c. | describe your requirements i.e. longer time for tests, wheelchair accessible lecture hall etc. |

Close and send the application form

Pay the admission fee 830 CZK

The medical report with your requirements for special treatment or any confirmation of the relevant institution please send to this address:




Third Faculty of Medicine of Charles Univesity

Study division

Ruská 87

100 00 Prague 10

Czech republic




Please do not print the application and do not send it to the Faculty!

Wait for the invitation to entrance exams, usually send one month before the entrance exams to your e-mail address or to the agency, which help you are applying with.
Transfer students
Admission for studies according to Section 49 (3), Act 111/98 Coll. The Higher Education Act, as amended
Admission fee
CZK 830 or equivalent amount in Euro must be made by card (via on–line application – the easiest way) or bank transfer (no check) to the following account of Third Faculty of Medicine:
| | |
| --- | --- |
| Name of the account: | Charles University, Third Faculty of Medicine |
| Bank name: | Ceskoslovenska obchodni banka, Branch (corporate) |
| Address: | Na Porici 24, 115 20 Prague 1, Czech Republic |
| Account number: | 0500081433/0300 |
| SWIFT code | CEKOCZPP |
| IBAN: | CZ 82 0300 0000 0005 0008 1433 |
Please, print your surname, ID of your application and "Admission Fee" in the comment. The applicant is to cover all bank expenses, i.e. you should tick this option in your payment order.
Enrollment to study
The enrollment to study General Medicine master programme will take place during the Orientation camp in Dobronice or in Burianova lecture hall (ground floor of the Faculty building). Before registration you have to provide the nostrificated secondary school certificate or apply for nostrification at the Faculty.
Please see What is nostrification?
In case this registration date does not suit you because of some serious reason, please let us know by sending an e-mail to to arrange an alternative date. The latest date to enrol to the faculty is October 20th 2023.
Orientation camp in Dobronice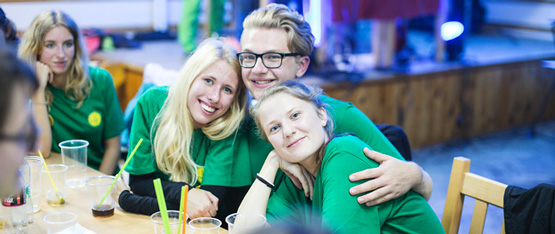 A traditional and very beneficial event is a four-day orientation camp for future students of the first study year of all study programmes of our faculty, which will take place at the training center of Charles University in Dobronice. The camp is devided to 2 rounds.
First round takes part from September 5th to September 8th, 2023
Second round takes part from September 8th to September 11th, 2023
We are the only medical faculty, which organizes training camp for both Czech and foreign students of first study year.
You will receive more information soon.
More information
Textbooks, accommodation and meals are not included in the tuition fee. The cost of living is relatively low in Prague. Accommodation costs approximately € 300 per month whereas the cost of meals is approximately €150.

International students admitted to the Faculty should secure a health insurance for themselves (for all forms of medical treatment) - from their home countries for the duration of their stay in the Czech Republic. Students may make a contract with a Czech health insurance company.

Admitted applicants have to apply for a long stay student visa at the respective Czech Embassy in their home country. This visa is absolutely necessary for international students besides EU and Norway.

All admitted students shall attend 5 days intensive Czech language course in September 2023.

Accommodation for the 1st year international students can be arranged at the Charles University dormitories. (approx. € 250 per month). But the places are limited.

The Faculty offers prospective applicants a 5 month (January-May) preparatory course in Biology, Chemistry, Physics and Czech and English Languages.

The academic year 2023/2024 begins on October 1st, 2023. A winter semester lasts 15 weeks till the middle of January and is followed by a 4-weeks examination period. At Christmas time, students have a holiday (10-14 days). A summer semester lasts 15 weeks from around February 20 till the end of May. The summer examination period ends 4 weeks later. It continues after the summer holiday during the month of September.
How to contact us
Representative of the Faculty for English Curriculum:
Vice-dean for Undergraduate Education and Student Affairs
David Marx, M.D., Ph.D.
Phone: +420 267 102 176
E-mail:
Study Division
Phone: +420 267 102 206, +420 267 102 189
Marie Ghasemi, e-mail
By post:
Third Faculty of Medicine
Study Division
Ruská 87
100 00 Prague 10,
CZECH REPUBLIC
We look forward, to meeting you in autumn 2023.